OLD PHOTOGRAPHS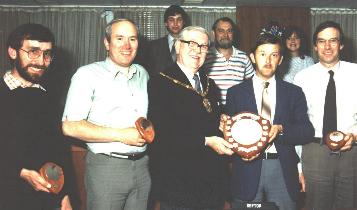 This is the victorious team which represented Sefton circa 1983 in a quiz - held at the Council Chamber in Old Hall Street - organised by Merseyside County Council among the constituent boroughs. The photo shows (l to r) Mike Hazeldine (ex Formby Railway), Bill Thomas (A.C.Meadows - now Condottieri), Mike Formby (A.C.Meadows - now MPs) and Ian Robertson (ex Formby Cricket Club and Richmond). In the centre background is the late Bob Azurdia, Radio Merseyside presenter who acted as Quiz Master.
Photographed by colleague Martin Williams, three members of the Wings team relax at the MQL Presentation Night in Bootle Town Hall circa 1972. Extreme left are Keith Parkinson and Eddie Amor, extreme right is Alan Howard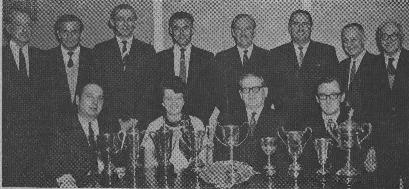 Pictured at the highly successful first social evening held by the Southport Quiz League at the Floral Hall (Autumn 1969) are the four members of the " Cupholders " quiz team. Top row, left: David Wright, Peter Davies, Ken Heames and Bob Jones, together with four members of the "Trophyholders" team - top row, right: Eddy Amor, Martin Williams, Bill Evans and Monty Massam. Pictured on the bottom row, left to right, are: scorer Tom Galley, reserve Mrs. Audrey Platt, questionmaster Tom Jackson, and time-keeper Geoff Dearden.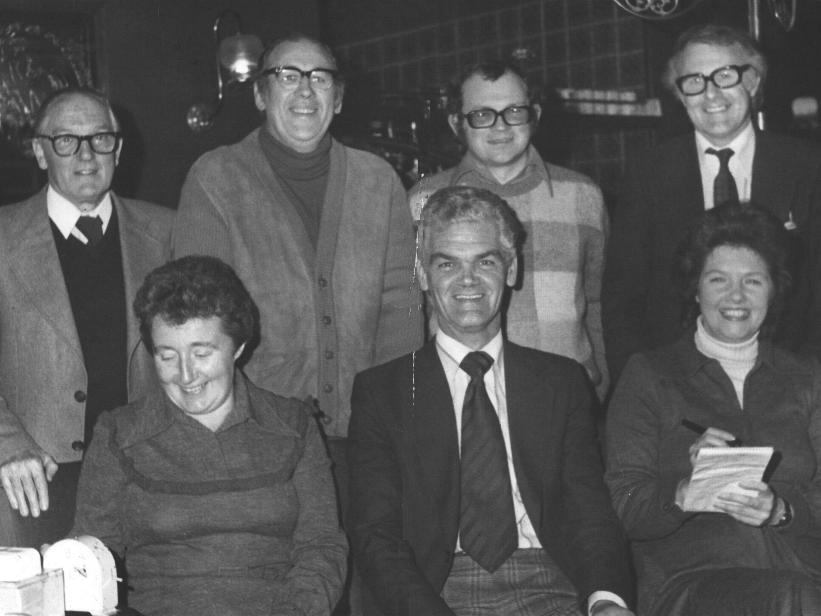 This is the team that played as the Tudor (now The Two Brewers) in the late 1970s. Back row (l to r) Harry Welch, Roy Drummond, Bernie Blaney, Derek Edwards. Front row (l to r) Pat Rigby (scorer), Jim Rigby (QM), Eileen Barnes (Scorer). The team later moved to the Bold Arms before moving to the present venue, Zetland - only Bernie Blaney remains of the originals.

.


Extract from Southport Visiter
February 1990

Radio Quiz Champions!
CHURCHTOWN, the mother of Southport, became the brains of Southport, when the Bold Arms Quiz team won the prestigious Merseyquiz Trophy. Pictured is Jenny Collins of Radio Merseyside presenting Bernie Blaney (team captain) with the winner's cup. Licensee Mr Dave Dobson told the Visiter, "I'm very proud of the Bold quiz team because as far as I know this is the first time the trophy has been out of Liverpool."

Two photos below from the 1990 Presentation Evening


L to R - Ray Mitcham. Eddie Amor, Alan Moorcroft. Arthur Naylor and John Moorman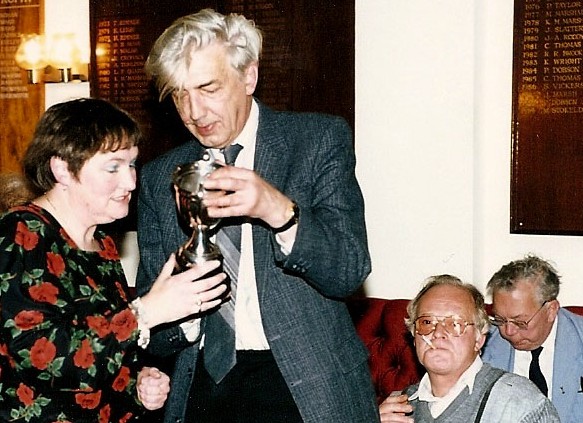 Linden Adams receives the Eddie Conway Trophy from John Moorman
watched by John Miller and Alan Moorcroft
1994 Handicap Cup Final (below)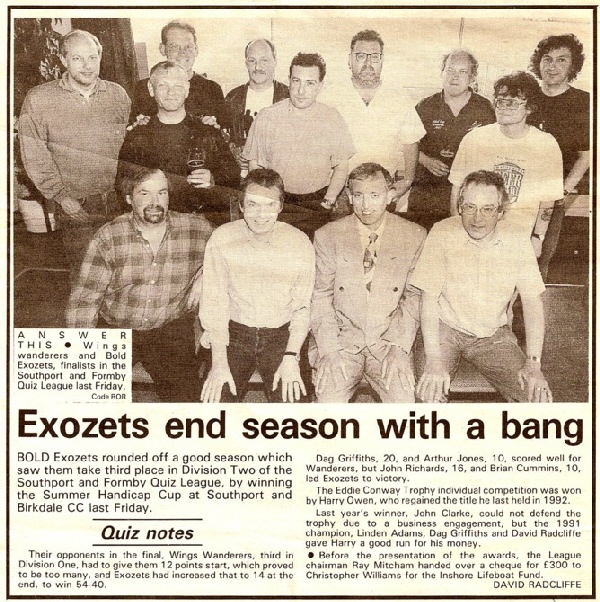 | | |
| --- | --- |
| | Read about the composition of and a brief history of the Merseyside Quiz Leagues |
| | Read the Southport & Formby Quiz League publicity leaflet giving further information about the quiz league |
| Home Page | Contents | About Us | Newsletter | Fixtures | Tables | Quizzes | Events |
| Wrong! | Hall of Fame | Cup Results | Teams | MQL | Ormskirk | Links | Contact Us |